Written by Julian Sadler, Senior Account Manager & Team Leader

The legal industry is one that is heavily burdened by traditional paper-based processes combined with the need for human interaction at almost every stage of a process.
The bad news is that these processes can be slow and at times hidden from the client, making for a frustrating experience. For example, if a prospective client chooses to get in touch on a Friday afternoon, it might be that they don't hear back from the law firm they've enquired with until early the next week.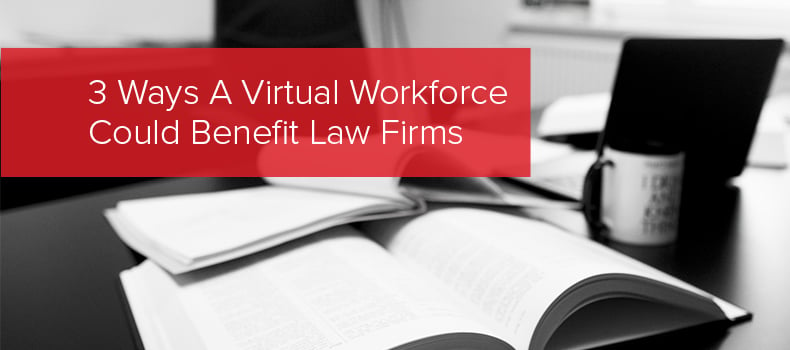 Although this is fair, considering we all need breaks and law firms can rightfully be closed on the weekends, sometimes a simple response to say the law firm is reviewing the case or information provided is enough to keep people relaxed about their enquiry. For me, even just a confirmation email or receipt is a requirement that sets my mind at rest!
The good news is that many law firms have well-thought out processes having been through them time and time again; and while they may still be relying on paper, postal services and face-to-face meetings, having a virtual workforce is a great way to start optimising processes.
What is a virtual workforce?
The virtual workforce is one of the most interesting areas where RPA is taking shape.
In this context, a virtual workforce is essentially a series of automated processes run by robotic process automation (RPA) that can emulate repetitive tasks and processes usually done by humans.
"AI-powered bots are already able to execute certain repetitive, complex business processes with more accuracy and speed than any human employee." (Intelligent automation powers a virtual workforce, Accenture)
These software and AI-powered bots are a way to assist law firms, as opposed to replacing human workers - they are all about reducing workload, automating repetitive tasks, giving (expensive) time back to the company to concentrate on the high-value work and improving the customer experience.
"Gartner, Inc. predicts that, by 2021, 70 percent of organizations will assist their employees' productivity by integrating AI in the workplace." (Gartner)
What are the benefits of a virtual workforce for law firms?
1) 'Robots' don't need sleep
Unlike humans, software robots don't need to rest and productivity doesn't drop over time because they've been running for hours on end. They are, in effect, open for business 24/7, 365 days a year. What this means is that while a law firm might close over the weekend (possibly even finishing early on a Friday!), the automated processes can continue to work around the clock and generate revenue..
When a prospective client sends through an application on a Friday afternoon, the 'virtual workforce' can review the application for errors. If one is found, the 'robot' can reply to the potential client before a human is even aware of the case. Come Monday morning, the weekend backlog has been reduced and admin time is reduced!
2) Reduced Cost of Processes
Repetitive and time-consuming processes can be costly for a law firm and whether it's time tracking, contract reviewing or research, automation can help to take the brunt of the work, reducing the time spent on the process and in turn, reduce the cost.
3) Processes Are Expedited
In a world of sending paper documents via post (both on the law firm and the client side), it's no wonder that processes can take weeks and even months, and mistakes are particularly time-consuming. For example, you request some documents from a client that need to be certified, however, only some of the documents have been certified when they arrive in the post.
So, you go back to the client, they have to get more documents certified and then resend them.
With the help of automation and digital processes, mistakes can be picked up on sooner and the errors can be rectified sooner, speeding the overall process up and keeping the client happy.
A true virtual workforce might take time to build, but law firms can start today by reviewing their processes to find those that are repetitive and easy to replicate, and can then take steps to automate these processes. They can then save time, money and create a more frictionless experience for the clients they serve!
Looking to learn more? Download our new guide: Why Law Firms Need to Adopt Intelligent Automation