So, you've stocked up on loo rolls and baked beans. You've spoken to long lost relatives you had no idea still existed. You've managed to ignore WhatsApp's finest advice on using ginger and snake blood to avoid the coronavirus. You've tested different corners of the house to find the quietest spot to work from. You've even found a way to keep the kids occupied.
Now it's time to get down to work. The first thing on your list is ensuring business continuity - so your staff or end-users can actually be productive at home.
Working from home can be an opportunity and not a threat to your business. A 'work from home' experiment was recently conducted at Ctrip, China's largest travel agency. 500 workers with decent broadband and a spare room were selected to work from home. Not only did the company save $1,900 per employee in office space and overheads, but found, through careful analysis, that each employee was roughly 13.5% more productive than those working in the office. Staff attrition rates were also 50% lower.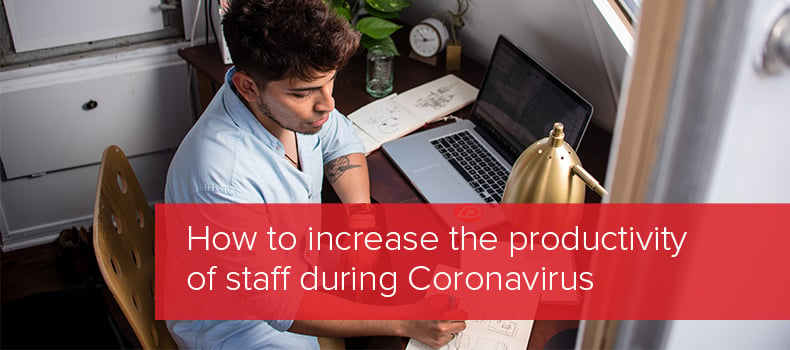 Let's presume your staff have the basics, such as laptop devices - those do help when working remotely. However, what does NOT help in the push to work from home is a lack of secure access to the files your employees need, an unstable or unreliable way of accessing your documents, a steep learning curve to use new software, complexity in deployment and inability to effectively collaborate on projects.
Further, managers need to be able to assign tasks to their team members, manage workload, track activity and also automate as much of the workflow as possible.
This can all be accomplished with a top-rated cloud-based Content Management Platform that meets your list of requirements - including the ability to keep communicating and collaborating, receiving and sharing business-critical information securely and keeping business processes as efficient as they were.
However, we are very aware that many companies have a ban on spending and are unwilling or unable to invest in a cloud-based content management platform, or sign up for long contracts - ironically when they need it the most.
Fear not! We have partnered with Xerox to help businesses adjust in these troubling times.
DocuShare Flex - the cloud version of the award-winning DocuShare platform (rated as a 'Leader' in G2's Content Management Report) is being offered free for 60 days, with a 5 or 25 concurrent user package, allowing you to rebuild your business without any upfront financial commitments. After 60 days, you can choose to continue using DocuShare as your core business solution by purchasing the required license or simply delete your account.
To help you get started (and to show you how simple it can be) have a look at the video tutorials below. They show you how to add users and content then create a simple automated workflow to get your users collaborating more efficiently.
With Xerox® DocuShare® Flex you'll be able to:
Upload and catalog content in seconds with powerful information capture features
Categorise, store, organise and manage content throughout its lifecycle
Collaborate on documents to help teams work more efficiently
Add annotations such as comments and highlights or redact sensitive information
Automate key processes such as approval or review requests
Protect sensitive data with access restrictions, auditable tracking, reporting and retention
Find content fast with powerful search capabilities
The 60-day trial offer includes:
Base Concurrent User Package Options: 5 or 25 concurrent users
Storage included: 200GB
Outbound/download bandwidth included: 85GB per month
Inbound/upload bandwidth included: Unlimited
Offer valid through June 30, 2020.
See how quickly and easily DocuShare Flex can get your team collaborating. Register now for a follow up conversation where we'll look to better understand your business needs and help you make the next steps.
You can also download a FREE TRIAL of Power PDF - a feature rich editable PDF software that's easier to use, more secure and costs 67% less than comparable leading products.