We're excited to announce that Xenith have been named Xerox Managed Print Service Partner of the Year (UK & Ireland) for the 7th year running.
Carlo Longhi, Director & General Manager, UK & Ireland at Xerox commented saying:
"Xenith have continued to lead the field with innovation and adoption of our advanced capabilities in workflow automation, content management and digital transformation.
They are positioned as a "transformer", a partner who has recognised the need to re-model their approach to the market, transformed their business model and demonstrated that they have in house capability to help their customers on a digital journey."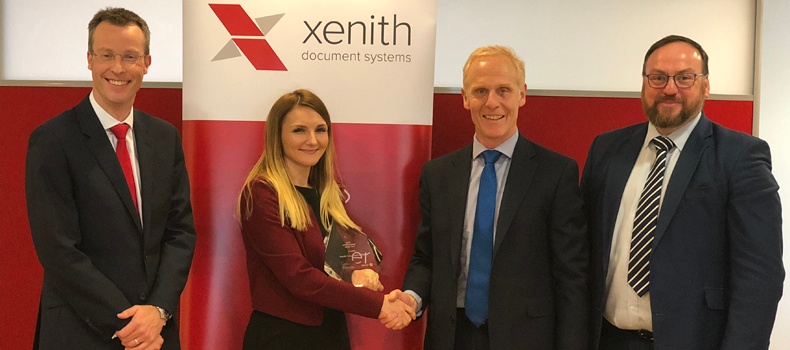 Laura Olley, Service Manager at Xenith, receives the award on behalf of Xenith from Carlo Longhi Director & General Manager, UK & Ireland at Xerox. Accompanied by Justin Milligan, MD of Xenith (left) and Marc Ueckermann, Solutions Director (right).
Justin Milligan, Managing Director at Xenith said:
"I'm delighted that Xerox has recognised our commitment to innovation with this award. This signifies the real value our clients see in how much more there is to our MPSPlus offering than the usual MPS available in our marketplace.
We're particularly delighted to see our Service Manager, Laura Olley, receive this award on behalf of our MPS Service Delivery Team and recognise their tireless work to exceed our customer's expectations. The team now manage our clients printing in nearly 40 countries worldwide, providing a truly proactive service that continues to evolve and this builds a strong foundation for the innovative digital solutions we offer."
So, how did we do it?
We know a little secret.
And we want to share it with you. But like all juicy secrets, it requires some context. A couple of years ago, we commissioned some research to understand the Managed Print Services marketplace. We wanted to know how we compared to other providers. We wanted to know what percentage of the marketplace actually has an MPS. And we wanted to find out if people were happy with what they had.
Now we can tell you the secret: If you think you have a managed print service, you probably don't. What you have is a Managed Fleet Service - and you're missing out on the benefits a true Managed Print Service can bring to the table.
What's the difference you may ask? To put it simply, a Managed Fleet Service is one where the provider simply manages your fleet of hard-copy devices. It usually involves remote monitoring of your fleet, proactive supply of consumables, a print management software, and a number you can call if things aren't going quite as they should be. All usually on a 'cost per click' contract.
If you've never had one before, a Managed Fleet Service usually results in a cost reduction of between 10 and 20 percent, and less trouble for your in house IT staff as most of the responsibility for maintaining the hard-copy fleet is taken over by the provider.
So, if that's a Managed 'Fleet' Service, what is a Managed 'Print' Service really?
The answer is simple. An MPS is one where we actually manage your print for you, and not just your fleet of hard-copy devices.
A true Managed Print Service is one where:
The provider understands the paper based processes in your organisation, and thinks of ways to make them more efficient.
Works towards making your employees more productive with regards to the production, storage, collaboration, annotation and consumption of documents.
Provides continual optimisation throughout the life of the contract, not just in year one.
Helps employees work the way they want to work - be it mobile workers, office based workers, or somewhere in between.
Helps bring about cultural change and shapes user behaviour to be more productive or secure or environmentally responsible with regards to your documents.
In essence, a Managed Print Service not only helps you to change toner cartridges easily, but it also help you to change the business.
And that's what Xenith offer with our two MPS offerings: MPS, and the award-winning, gold standard offering which so many of our customers enjoy - MPS Plus.

Xenith believes that every customer is different and requires a bespoke solution design following an assessment. We also believe that if we provide the same service and solution at the end of the contract, as we did at the start, we haven't done our job to evolve with the customer's needs. We are flexible and adapt to your business goals - that is standard for each one of our three product categories.
All of these unique differentiators have given Xenith a competitive advantage over the rest of the marketplace, resulting in being recognised as the most innovative & successful partner by the global leader in MPS - Xerox.
"Xenith also recognise that print is as important as ever, and continue to build on their market-leading "MPS Plus" offering which helps companies to print efficiently while transitioning them to a digitally-led environment.
Additionally, their focus on continual optimisation, proactive service and document security - aided by their advanced business intelligence toolset - is appreciated by customers. Xenith have benchmark expertise and capabilities to support customers on their digital journey and are a partner who we highly recommend." Carlo Longhi, Director & General Manager, UK & Ireland at Xerox
MPS is perfect for those who want an optimised print, copy and scan environment.
MPS Plus is perfect for those who want all of the above, but also wish to future-proof themselves. If you wish to eliminate cumbersome paper-based processes and transition to a digitally-led environment as time passes - this option is for you.
Last but not least, you may wish to think of our digital solutions, which will help your company with digital transformation.
Now that you know the secret, ask yourself if what you are getting from your provider is truly a Managed Print Service, or merely a Managed Fleet Service.