If you're looking for proof that technology can help businesses enhance their operations and thrive, look no further than the SME companies that turned to tech during the pandemic.

"Although 68 percent [of SMEs] credited their technology and equipment for helping them weather the pandemic, nearly three-quarters of respondents indicated they expedited digital transformation plans in response to COVID-19." (The State and Fate of Small and Medium Business survey, Xerox)

Change is difficult to manage at the best of times, but when uncertainty hits and the only way to move forward is change, the decisions you take in that moment are not only crucial then, but can also steer the business in a different direction for the future.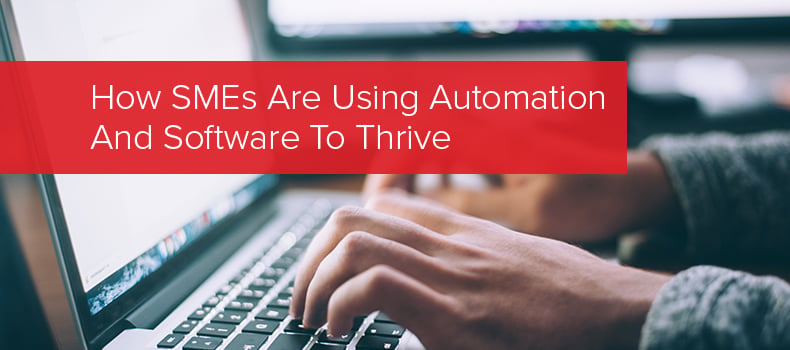 Technology, software and now, automation all play a key part in this decision making and the development of the business moving forward. During the pandemic, nearly all face-to-face meetings became online virtual meetings, and suddenly every company needed a reliable video conferencing tool and the hardware to run it.
Furthermore, everyday processes that people would carry out with ease in the office suddenly became challenges and companies were looking for innovative ways to keep the organisation running as close to normal as possible.
In fact, 81% of SMEs surveyed by Xerox say that they're more reliant on innovation than ever with 85% saying they found communications and collaboration technologies, remote IT support, and security software and hardware were more indispensable than before the pandemic. (The State and Fate of Small and Medium Business survey, Xerox)

The reliance upon technology isn't necessarily new, but how we rely on technology and software is. Printers are the perfect example.
Before the pandemic, printers and MFDs were likely used most commonly for printing in the office, but during the pandemic, they've been used to scan documents straight to document management systems, share content between colleagues through the scan to email function and even proofread and correct documents.
The technology in this case is the same as what we're used to but the use cases are different.
Learn more about how you can benefit from ConnectKey apps to make the most of your Xerox MFD

"80 percent of SME leaders saw automating tasks and processes as important to their survival, with 82 percent emphasising the same when it came to digitising paperwork."(The State and Fate of Small and Medium Business survey, Xerox)

The need to digitise documents during the pandemic suddenly became a top priority as employees had to work from home and needed access to the same information they had in the office.
Digitising documents and using document management platforms, like DocuShare Flex provides employees with a way to access, search, edit and approve documents, securely share & collaborate on files as well as assigning tasks, managing workload and creating workflows without any IT intervention.
Find out more about Xerox's DocuShare Flex here.
But beyond being the perfect software solution during the pandemic, document management platforms like DocuShare Flex also provide the ideal solution as businesses move towards more digitalisation and automation, and also provide more flexibility for those choosing to support hybrid working.
The COVID-19 pandemic acted as a catalyst for investment in technology and change, but those changes are now sticking and need to be optimised in order to continue being successful.
As we move back to some normality, every company can learn from the SMEs that leant on technology, automation and software to survive a critical year (and longer)!
If you're looking for ways to automate your business processes or if your business is implementing better remote and hybrid working solutions, get in touch with Xenith to find out how we can help provide software, hardware, automation and supporting services to help your organisation succeed!