Remember when phones were only good for phone calls, texting and maybe the calendar? It feels like a long time ago, especially since the rise of the smartphone over a decade ago. It's fair to say that technology has come a long way since the millennium and one such device that has evolved far beyond what it was designed for is the printer.
The functionality of a printer was once limited to printing and print related functions such as scanning and copying, depending on your device. Some of today's office printers and multifunctional devices/printers (MFD/MFP) go far beyond this functionality, adding in smartphone/tablet like screens and a variety of apps to increase office productivity.
One of these apps actually has the ability to proofread a document for you.
That's right, the Xerox Proofreader Service gives users instant access to a powerful tool that checks for spelling, grammar, style, and plagiarism right from the MFP.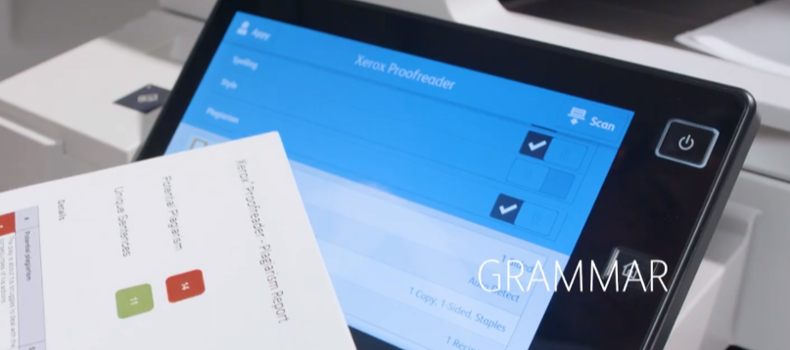 The user simply scans or uploads the document to their Xerox ConnectKey enabled device and the app does the rest, sending a report to the user with any suggested corrections. The Proofreader app aims to make documents and document workflows more efficient by ensuring the document in question is accurate and well-written.
How to proofread a document with your printer:
Step One: Open the Proofreader app on your Xerox ConnectKey enabled device and log in.
Step Two: Choose your proofreading options and choose whether to receive the report by print and/or email.
Step Three: Scan or upload the document.
Step Four: Receive and review the proofread document.
Learn more about the Xerox Proofreader App in the video:
If you're interested in learning more about the Proofreader App or if you'd like to know more about other apps for your MFD, head over to our Apps page, here.