39% of Companies have already implemented some form of cloud print management platform.
Printix makes it easy for IT administrators to automatically build, deploy and manage a cloud-based print infrastructure and alleviates the need to define and maintain print queues and printer drivers.
The solution enables users to be Print Ready, with automatic detection and installation of printers, drivers, and queues based on their network location, whether at Home or in the office.
Impacts of transitioning to Printix Cloud
Serverless Architecture
Eliminate traditional print servers and create a secure, cloud-managed print infrastructure.
Simplify Print Management
Automatic updates without the requirement of GPO (Group Policy Object).
Improve Productivity
Intelligent print driver selection and print queue installation by location, group or self-service.
Reduce Costs by 50% or more
Significantly reduce on-premise infrastructure costs, services, support and maintenance fees.
Single Sign-On Secure Access
Single Sign-On and secure access to Printix using Microsoft Azure AD or Google Workspace.
Supports all Network Printers
Independent and multi-vendor support. Print to any printer from any device.
Simple Integration
Printix integrates seamlessly with Microsoft Azure AD and Google Workspace so you're up and running immediately.
Central Management Console
Centrally manage printers and users. Visual analytics in Power BI to help transform data into insight.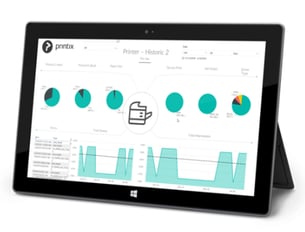 77% of organizations are already using a cloud service to manage at least some print jobs & 39% have already implemented some form of cloud print management platform. (Quocirca Cloud Print Services, 2021)
*Infrastructure costs | Total cost of ownership includes, on-prem server costs + on-prem support costs + opportunity cost of freeing-up IT, for value-add to business
Chat with us to learn more about how administrators can easily see print activity and status, plus identify high-usage users by department or usage allowing you to take control of costs.