Over the last few weeks, we have received many enquiries from our customers about how they can enable 'touchless printing' in their workplaces, in order to better manage the transmission risk of Covid-19 as suggested by government guidelines when returning to the office.
If you are in charge of a shared workspace that has an optimised printing environment, you are likely to be using a SaaS or on-premise "follow me" print management solution, in which prints are released by tapping your door entry card to a reader, or by entering a pin code into the device you wish to use. Users can then see a list of documents on the screen of the MFD, from which they can select what they wish to print.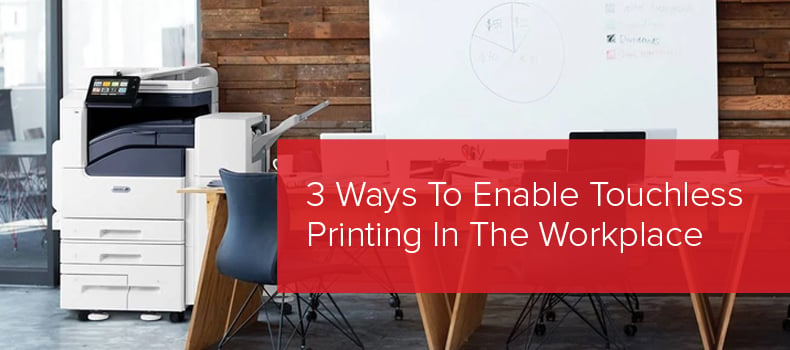 This is not ideal as the Covid-19 virus can potentially be left behind by a carrier when touching the MFDs or other shared office equipment, and transmitted to the next user.
The solution best suited to your existing technology may vary - it's worth getting in touch with us to go through your specific options. However, in this blog we outline three different basic ways in which touchless printing can be enabled:

1) Voice recognition:
Our innovative platform allows users to interact with devices using simple verbal commands for printing and scanning. Originally designed for disabled users, this technology is perfect for a touchless environment.


2) Bluetooth/NFC:

Bluetooth and/or Near Field Communication (NFC) on personal BYOD style mobile devices and business devices, can be used to communicate with MFDs in order to release prints and input scanning commands.
Users can see their list of print jobs in their individual print queue, and select the ones they wish to release.

3) QR Code:
Another way to release prints from your queue, or to print, is by using an app on your mobile phone, that recognises the QR code displayed on the screen of the MFD, thus securely forming a connection and allowing you to use the device to release prints or scan documents you place directly into the document feeder of your device.
"Ensuring our office is a safe place to work and that our employees know how to work safely during the COVID-19 pandemic is a key focus area for me as HR Manager and the Directors.

We are advised to take precautions wherever we can to avoid touching commonplace areas. Therefore, if we can adapt the way we work and eradicate touch-based security/technology devices, as directed by the newly released guidelines from the HM Revenue, then we should be actively looking for ways to do so to make our workplace a safe place to be during Covid-19."

Laura Rooney - HR Manager, Xenith Intelligent Workplace Services
Of course, the government has also suggested that businesses help employees work from home whenever possible - if this is the route your business has decided to take, you may benefit from our suite of remote workplace services.
Either way, please stay alert, control the virus and save lives. We will get through this together.