In a time when both security and productivity battle to be the top priority in any business process, Kofax ControlSuite plays an integral role in managing, securing & governing every aspect of information distribution.
To summarise the platform: It's a single solution that integrates print, capture and output management, allowing for increased productivity, better security, reduced compliance costs and helps to ease administrative work.
It's the only solution that securely enables your digital office experience by managing the way information is captured, routed & printed, and is made up of 4 key components: Print management, Document and Image Capture, Output Management and Mobile Workflows and management.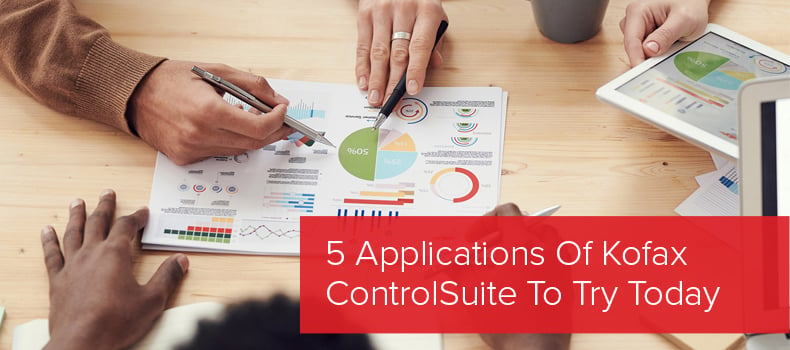 Here are 5 applications to get started with when using Kofax ControlSuite:
1) Automatically route internal communication and feed information into your document management system
Kofax ControlSuite's in-built document and image capture solution, AutoStore, can be used to automatically capture content and then deliver the documents to the right destination, whether that's through fax, email, network folders, PCs, or into your company's document management system.
2) Set business rules and prevent people from saving documents on their desktop or personal drive
As information comes into the business, it's important to capture it in the right place, both from a security perspective and to ensure that it's managed properly. With ControlSuite, organisations can set rules and routing to prevent employees from saving documents on their own drives or desktops.
Instead, users are guided to capture documents in the company's document management system.
Click here to learn more about Kofax ControlSuite and the benefits it could provide to your business.
3) Mobile Document and Print Management
With Business Connect, ControlSuite's built-in mobile solution, you can provide continuity to mobile and remote workforces - whether that's salespeople travelling for meetings or employees working remotely or visiting different offices and sites.
The documents and information can be managed in a number of ways from managing assets with barcode technology, through to initiating secure printing from a tablet or mobile, no matter where you are.
4) Keep track of document access
With ControlSuite's Output Manager, you can keep track of every person that has accessed a document. This helps to keep documents secure and in the event of any suspicious activity, you can quickly see who has accessed the document in question.
With information being a key security risk, keeping track of document access is more important than ever!
5) Prompt digital correspondence instead of paper
As noted previously, productivity and security are top of the priority list when it comes to any business process, but one often overlooked and increasingly important priority is sustainability and environmental impact!
We all know how difficult it is to drive change, such as encouraging people to print less and turn to digital alternatives, but with ControlSuite, it's possible to automate those prompts so that when employees go to print something, such as a letter, they're instead advised to consider a digital alternative. Good for the environment, and good for business!
Kofax ControlSuite is a powerful tool that could enhance your print and document processes, making them more secure, more manageable, more productive and even more sustainable - find out how your business could benefit from ControlSuite here.