Is your print management software giving remote workers the flexibility they need?
Many companies are still using the same print management systems from 2019, when most employees worked from the office daily. Shifts to hybrid working mean that users require the flexibility to print from home and anywhere really—and to do so securely.
Xerox® Workplace Cloud is a PM solution that caters to the current workplace, delivering authentication, print management for the office and remote workers, while controlling costs and mobile-friendly workflows.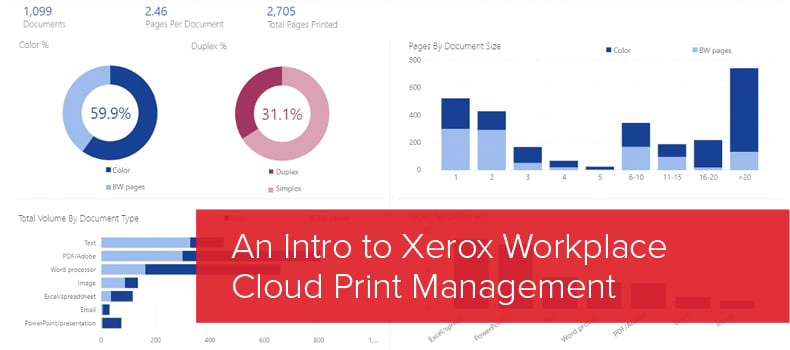 The enhanced capabilities include a home worker print tracker that extends the organisation's print management to employee homes. Whenever someone clicks print, on any brand of printer, the job details are recorded in the cloud and become part of your overall analytics.
This means no hidden printing costs if remote workers expense paper or ink back to the business when using a home or personal printer.
Data is the cornerstone of success and user analytics deliver more value for key business decision-making, especially with new technologies and cloud computing allowing for hybrid working. Managers will appreciate the real-time data visualisations, easily accessed in dashboards.
Samples where Clients have benefitted include:
Total printer footprint and complete company asset outlay

Job size Pareto charts by document type to reveal cost efficiencies

Cost-per-page outlay and reports that show to recharge users or departments

Balance assets with actual use

Print volume aligned to users and departments with ratio analytics

Network diagrams of printing behaviour by document type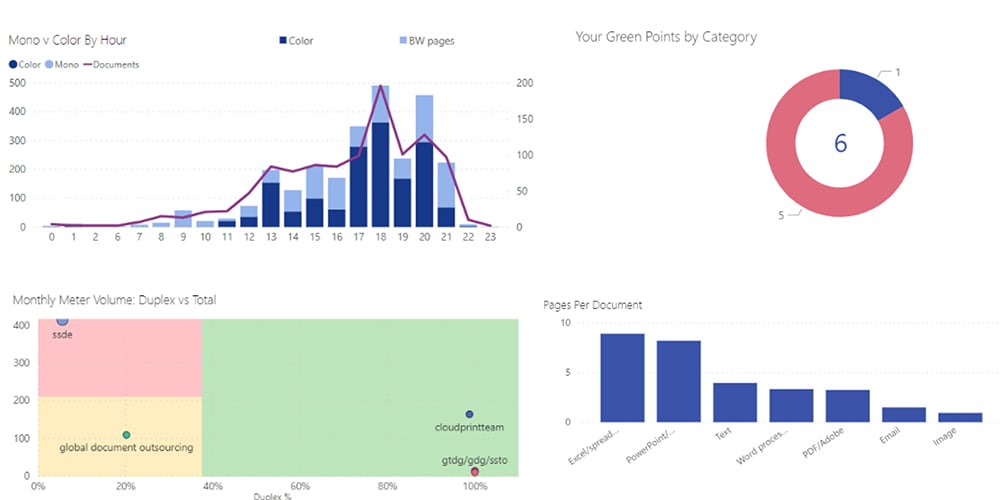 Learn more about the Xerox Workplace Cloud Reporting and Analytics and see visual examples of the dashboards here.
Another feature of Xerox Workplace Cloud that users love is the ability to print from mobile devices - this allows users to send print jobs from a whole range of devices, including: Windows OS devices, Google Chromebooks, Mac OS, Linux, and mobile app printing for iOS, Android and Windows Surface tablets.
The best feature is it doesn't matter if you're working from home or in the office some or all of the time, you can just print from whatever device you have in the location you need to print. Plus, it's the same authentication process at the printer regardless of device, ensuring that the process is still secure.
After all, security is still high on the list of priorities for any software, hardware or application used in the business.
Workplace Cloud takes this into account by providing a number of security features and options including:
Content Security
The Content Security Module watches for print jobs with specific words or content in the document, to ensure compliance with company policies and to alert administrators to action.
Authentication and Access Control
The solution is compatible with a wide range of industry standard secure readers including: card, cardless, mobile device-based authentication using NFC, QR codes or the Xerox Print Portal App.
Single Sign On (SSO)
Add SSO capability to any SSO enabled service on your printer — such as cloud connector apps and more.
Pull Printing
This removes the risk of confidential documents being left on the output tray with pull printing functionality.
Despite all of this functionality, Workplace Cloud is very easy to use and manage and through accounting, reporting and rules, allows IT and print managers to monitor printing across the organisation with fleet reporting and accounting capabilities.
Click here to learn more about how administrators can easily see print activity and status, plus identify high-usage users by department or usage allowing you to take control of costs.
To sample a User Analytics assessment, contact Xenith's technical team.