The world of business is changing, with an increasingly mobile workforce and workers on the go more of the time, be it commuting, travelling between offices and meetings or working from home, having content on the go is more important than ever.
Finding time to read long reports and business documents can become a burden for some and the last thing you want is people turning up to meetings underprepared because they couldn't read the appropriate documents.
With a changing business world come changing business processes and options. One of which is the transformation of written documents to audio.
The benefit of an audio approach to documentation, at least for those that want it, is that it's easy to consume and listen to on the go - even on the way to a meeting for example.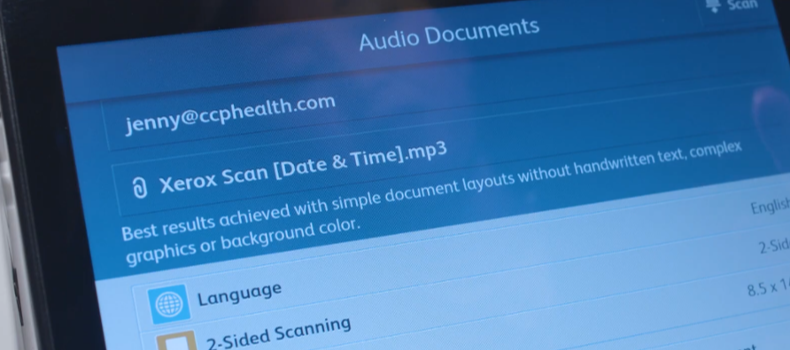 With the Xerox® Audio Documents app for your ConnectKey device, you can easily scan documents in and receive an audio version within minutes.
Here's how it works:
Step One: Log in to your ConnectKey device and open the Audio Documents App
Step Two: Enter the email address for the audio file to be sent to and choose the language of the document.
Step Three: Scan your document.
Step Four: Access the MP3 audio file through your email and listen to the document.
Watch the video to learn more:
Find out more about the Xerox Audio Documents app for Xerox devices here or if you'd like to know more about other apps for your MFD, head over to our Apps page, here.