Printing/scanning/copying devices are often seen as the large piece of equipment in the corner that we all have to use from time-to-time - some users only ever use the most basic functionality, while others realise that these devices can actually change the way you work.
Not all printing devices are created equal, either - in fact, most devices differ in the way they function and the options that they provide, from the security and sustainability credentials they hold through to the user interface and apps they allow you to install.
Using the Xerox AltaLink C8100 series of multifunction printers as an example, we're going to break down some of the differences in features and functionality between this and other printing device manufacturers.
Note: Not all features listed below will be relevant to your company, and if you're looking to learn more about managed print services or trying to find the right printing device fleet for your company, click here.
A little more about the Xerox C8100 Series Multifunction Printers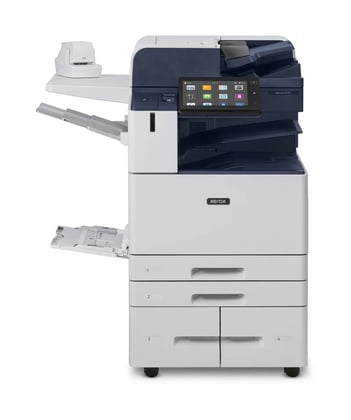 A series of colour multifunction printers, the C8100 series provides the ideal blend between smart and simple, providing an intuitive and personalised tablet-like interface where you can access apps like scanning directly cloud storage through to fast and efficient printing and scanning of documents.
It is the "ideal digital workplace assistant for demanding teams".
Beyond the standard functionality that you might expect to find on an office MFP, the C8100 series also benefits from innovative features and technology, including:
Proximity sensors - the device turns on and off as you walk up to it and away from it. This conserves energy when the device is inactive but it's always ready when a user approaches!


Near Field Communication (NFC) Tap-to-Pair allows users to tap their mobile device to the AltaLink C8100 Series user panel and quickly connect with the multifunction printer.


Touchless printing - with the use of the Xerox Workplace App, users don't even need to touch the printer, they can control everything from the app on their own device - a key benefit while Covid-19 is still a threat!


Security - the C8100 series has a strong line-up of security options to ensure threats are neutralised and data is kept safe.
How does it compare to other printers?
While most of the office multifunction printers manufactured by leading print providers will provide good quality print, it's important to consider other features of the device and how it works. User interface can be the difference between success and failure when using a device, or if you're looking for a more sustainable option, you might want to consider devices that are registered with an EPEAT Gold Rating.
Here's a table of features comparing the Xerox Altalink C8100 series of devices to other manufacturer offerings, including Canon, HP, Konica Minolta, Kyocera and Ricoh: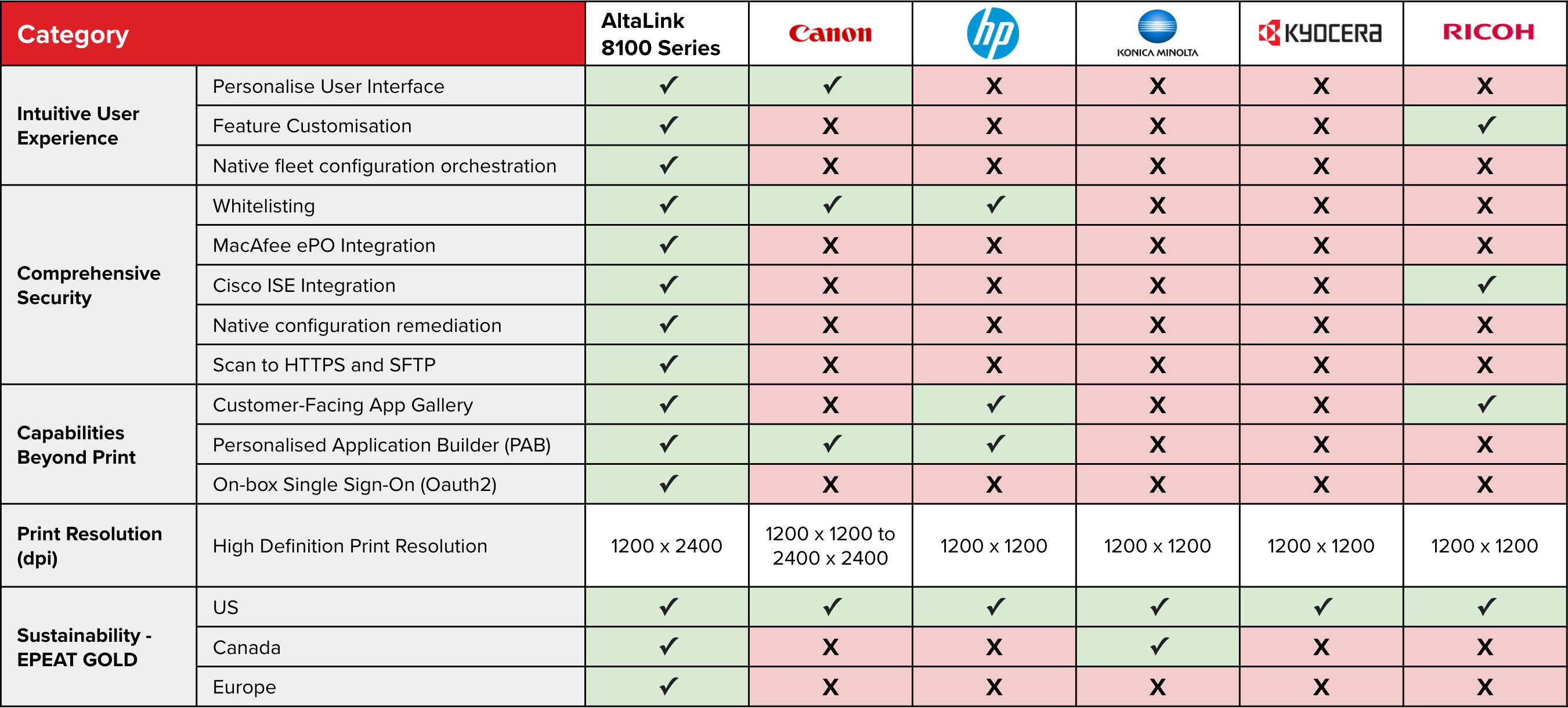 What does this information mean?
Intuitive User Interface
The user interface is really important on any technology device and that applies to printers too! With options to personalise the user interface, it makes using the printer a much better experience, especially if the printer shows the apps and functionality that users operate the most.
As can be seen from the table, only Xerox and Canon currently offer this functionality, although Ricoh does offer some feature customisation.
Comprehensive Security
Printers are security threats, much like any other connected device. Whether it's users printing things they shouldn't or the actual device's connection to the network, it's vital to have comprehensive security features in place.
With this in mind, the Xerox C8100 series have McAfee® whitelisting enabled along with integrations with McAfee ePO and Cisco ISE that neutralise threats instantly at the device level, and protect the network. Xerox, Canon and HP all offer whitelisting on the devices.
Xerox are the only device manufacturer to offer more advanced security options to maximise printer fleet, document and content security.
Capabilities beyond print
Xerox, HP and Ricoh all offer a customer-facing app gallery, allowing your business to install business apps such as scanning to different content management systems, receipt and expense management apps and other line of business applications.
Xerox, Canon and HP also offer a personalised application builder, which other manufacturers do not, allowing your company to build any additional applications you might need!
Single Sign-on (Oauth2) is only offered by Xerox, a feature that makes accessing the device and applications easier and quicker for users.
Print Resolution (dpi)
The standard high-definition resolution across the different manufacturers is 1200x1200, however, Xerox offers a resolution up to 1200x2400 on the C8100 series, allowing for higher quality print-outs. Canon also offers a higher resolution option.
Sustainability - EPEAT Gold
Sustainability is becoming increasingly important to many businesses, and with printing processes often deemed as less environmentally friendly than alternatives, it's vital to choose a device that is seen as sustainable.
Xerox's C8100 series is rated at EPEAT Gold across the US, Europe and Canada, where most of the other manufacturers are only rated Gold in the US. The EPEAT Gold rating ensures that a device is as sustainable as it can be by meeting all of the required criteria and more than 75% of optional criteria that addresses the full product lifecycle, from design to production to energy use and recycling.
How does Xerox's latest hardware compare to Canon, HP, KM, Kyocera & Ricoh?
As can be seen from the comparison table and the information above, the Xerox C8100 series has features above and beyond all the other manufacturers, with options to personalise the user interface, comprehensive security, high-resolution printing, sustainability Gold ratings and apps that enhance the device's functionality.
If you're looking to learn more about the hardware capabilities of the C8100 series,

visit our products page here

. Or if you're interested in learning more about managed print services and how to get the best services and products,

click here

.