There are still a lot of business processes that rely on paper documents - from onboarding and application processes through to printing agendas for a meeting.
You have to wonder, why?
The production, use and disposal of paper consumes a lot of energy and isn't as sustainable or convenient as digital alternatives.
If you still have lots of paper in your workplace, then it's definitely time to start managing documents and information in the cloud.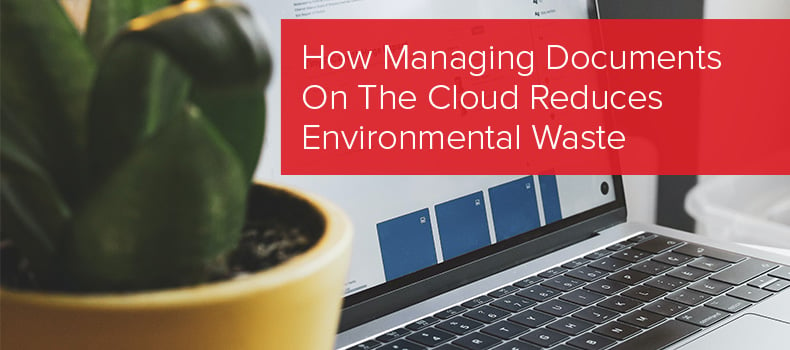 But it's not just paper documents that are inefficient. Digital documents can still be inefficient if they're not utilised properly. This often comes down to how they're stored and accessed.
For example, if people are creating documents on their local computer drive, then others might not be able to access the document and end up remaking it when they need the same information - this is a waste of time and resources. Even when documents are stored on an on-premise server, they might not be accessible unless you're on the company network, making them difficult for anyone remote to access or edit the documents.
That's where cloud-based information and document management and storage comes in.
Cloud computing is scalable, flexible and can help increase productivity in ways that paper processes and on-premise servers can't. Cloud computing also doesn't need to be wasteful - deleting a document from the cloud doesn't involve recycling a piece of paper and creating a document doesn't mean cutting down trees!
Cloud storage and servers can even be more efficient than running your own internal servers that are used to host documents in an accessible place. "Legacy servers, ignored for years, are incredibly energy inefficient." (Energy sustainability in data storage will be a hot button issue in the decade ahead, IT Pro Portal)
Cloud servers are also evolving and developing with the opportunity to become more efficient. With large technology organisations continually investing in cloud computing and server infrastructure, there are new developments all of the time.
"A new study of data centers globally found that while their computing output jumped sixfold from 2010 to 2018, their energy consumption rose only 6 per cent." (Cloud Computing Is Not the Energy Hog That Had Been Feared, The New York Times)
Ultimately, managing documents on the cloud instead of using paper documents or storing digital documents on outdated and energy inefficient on-premise servers can reduce environmental waste and help increase your company's overall sustainability.
Further still, with information and document management on the cloud, documents can be accessed anywhere, the storage is massively scalable without large additional costs, and importantly, it doesn't involve cutting down trees for people to annotate a document.
Xerox® DocuShare® Flex is a cloud content management platform for small and medium-sized businesses (SMBs) and enterprise departments.
It has been created as an affordable, easy to implement solution that tackles some of the daily business issues around content and document management.
With more and more processes becoming digital, organisations need a way to capture, store, share and work on documents in a live business environment. In the past, this has been difficult to do with a lot of barriers, from cost to user adoption. Find out more here!