With the increase in remote working and the changing business landscape in the post Covid-19 world, more and more businesses are shifting to a laptop fleet of business devices.
It makes sense as laptops offer more flexibility in regards to where employees work (from home, the office, when travelling for business etc.) and they allow increased business continuity as employees can pick up and take their laptops away from the office in the event of an office closure.
Even security is becoming less of an issue with laptops as secure business laptops with multi-layered, enterprise-class security are available, reducing the risk of cyber-attacks and minimising disruption as a result of cybercrime.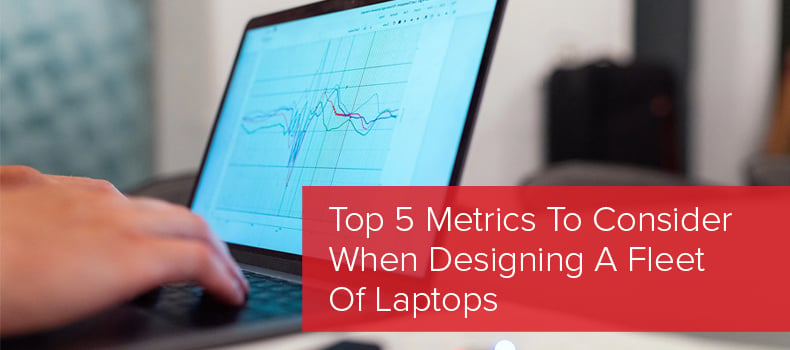 One of the biggest challenges of designing a fleet of laptops for business is choosing what to provide employees with and knowing what suits everyone in the business.
Choose laptops that aren't powerful enough and you'll have constant IT support issues. Go with something too overpowered for the majority of the business and you'll be paying far more than is necessary for the overall utilisation of the devices.
By monitoring the right metrics it's possible to get around some of these issues and find a solution that works for everyone in the business, without massive compromises on cost, device type and time needed by the IT team for support.
Here are 5 metrics to consider when designing a business fleet of laptops - broken into hardware-based metrics and business-based metrics:
Hardware-based Metrics
1) CPU Usage

The central processing unit (CPU) is crucial for keeping everything running properly on any device, but it can also throttle performance if it's not powerful enough for the tasks at hand.
By monitoring CPU usage and utilisation of your current user device fleet, you can see who in the business needs a more powerful CPU and who doesn't.
2) Storage and Hard-disc Usage
In today's business world, there's a good chance that many of your employees are using cloud-based software or storage solutions meaning there is less being kept on the physical hard-disc.
However, before designing a fleet of laptops that have hardly any internal storage to save cost, consider checking how much internal storage users actually make use of. There might be some people who still need a larger storage drive to accommodate for large files that can't easily be stored in the cloud.
3) Memory Usage
As with CPU usage, memory can throttle the performance for a user, especially when even unsuspecting programs such as an internet browser can use a good chunk of memory to run smoothly.
By monitoring the memory usage across your current device fleet, you can make a more informed decision about what memory should be included in the new devices and whether it needs to differ for different people in the business - after all, not everyone will need 32gb of RAM to run a CRM system...
Find out how to start tracking these metrics on your current device fleet with a free trial of HP Proactive Management.
Business-based Metrics
4) IT Support and Maintenance Time
When designing a new fleet of business devices, in this case laptops, the last thing you need is to increase the amount of IT support needed to maintain and troubleshoot user issues.
Where possible, you should monitor and track how much IT time is regularly needed for device support and maintenance and further to this, analyse what the time is needed for. If it's because users are constantly running out of storage on the devices or because devices are slow, then factor this in when designing the new fleet of laptops.
The ultimate aim should be to minimise IT support and maintenance time.
5) Cost (Upfront, Monthly, Maintenance)
Cost might be a big factor in your decision to procure and use certain equipment - if the budget only allows for a certain laptop spec, then that's what you're going to end up with regardless of whether they're right for the job.
But don't start with cost. Consider the factors above first and then work on the costing to see how viable different solutions are. Consider the bigger cost of the IT team maintaining underperforming devices. Plus, look at the opportunity to add the fleet of laptops as OPEX rather than CAPEX.
For example, with device-as-a-service (DaaS), you can procure a whole fleet of laptops with different specs for different users without any upfront costs. The whole service is based on a monthly cost-per-user and goes far beyond just the laptop leasing and actually includes maintenance, support and proactive monitoring of the devices to catch any potential issues early. Not to mention the best-in-class enterprise security options available. Plus, it's scaleable up AND down.