According to Gartner's Top Trends in the Security Maket for 2023, they state, "Enterprises are facing an ever-expanding dynamic attack surface. This situation originates from increasingly interconnected on-premises, cloud, cyber-physical and personally owned assets, and also from connection to third-party infrastructures from supply chain ecosystems and M&A activities.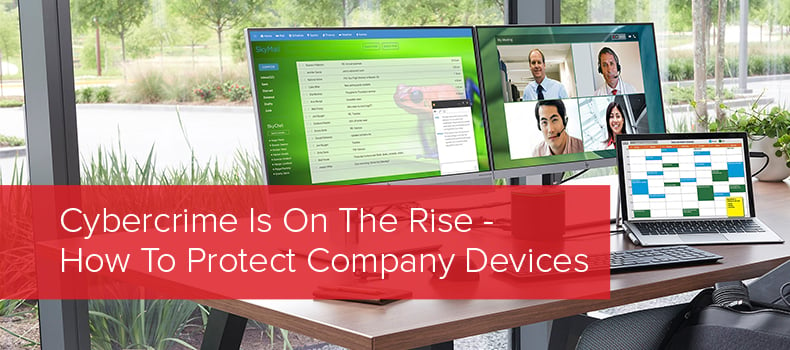 As a result, new threats target key digital assets, by leveraging newly exposed vulnerabilities, such as misconfigured cloud services, compromised applications, exposed credentials, spoofed domains, unprotected industrial systems and supply chain risks.
Security is of the utmost importance and while employees are using devices away from the office, you need to consider how to approach security issues and make sure everyone is protected regardless of the network they're connected to.
It's also important to realise that every company is vulnerable to these attacks, so you're not alone with this challenge. Xenith uses solutions like HP's Wolf security.
HP Wolf security helps strengthen security at your devices' most vulnerable entry points using a different approach: application isolation. Rather than trying to recognize malware, it opens untrusted websites and files in their own isolated virtual containers, called micro-virtual machines (micro-VM). If there is malicious code present, these micro-VMs trick the malware into thinking it's running inside your computer, when in fact it's trapped.
Inside the hardware-enforced micro-VM, malware is unable to affect your device, access your files, or even get into other browser tabs. When the browser tab or Office file is closed, the entire micro-VM is automatically discarded—and the malware trapped within it is deleted. No special training or additional quarantine procedures are needed; just close the browser tab or file, and the malware is gone.
Aside from Wolf + Sure Click, here's a breakdown of the other prevention, security and management features included with our HP DaaS solution:
HP Sure Sense
Sure Sense uses deep learning AI to detect and prevent threats in real-time, meaning any malicious or unusual activities are picked up on before they can become an issue.
HP Sure View
Sure View is a built-in privacy screen that can be enabled at a touch of a button, allowing only the user sitting directly in front of the screen to see what's on it.
HP Privacy Camera
The privacy camera on the HP secure devices includes a physical shutter to protect from malicious surveillance of the user.
HP Secure Erase
Secure Erase takes deleting files to the next level, using a BIOS-level feature that permanently destroys sensitive data from hard drives and solid-state drives meaning it can never be recovered or compromised.
Certified Self-Encrypting Drives
Self-encrypting hard drives and solid-state drives employ hardware-based encryption to protect the content on the drive, even if the drive is removed from the device.
HP Sure Start
Sure Start continuously inspects the BIOS and automatically heals the BIOS if it's been damaged by malware, rootkits or corruption. It is the world's ONLY self-healing BIOS.
HP Sure Run
Sure Run is all about keeping critical processes running with the help of hardware enforced protection by monitoring all key processes and alerting users and IT of any changes and restarting processes automatically if they are stopped.
HP Sure Recover
Sure Recover is built into the device hardware and firmware and enables end-users to restore their machines quickly and securely to the latest image using a network connection. IT can even schedule re-imaging for an entire fleet of devices.
HP Endpoint Security Controller
Endpoint Security Controller is the hardware foundation for the security architecture in HP devices. It's physically isolated and cryptographically protected hardware creates the root of trust that enables hardware-enforced, self-healing, manageable security solutions like HP Sure Start, HP Sure Run and HP Sure Recover.
Still not sure of what you need? We want to help by offering you a free trial of HP Proactive Management & Security.