Document Classification is the process every document goes through as it enters your organisation. Until someone or something reviews what the document is, only then can they understand what it is and how it should be stored or used. Most documents that are received are in an unstructured format. That means there is nothing obvious without reading the context of the document to understand its purpose.
Whether you see them all or not, your business is likely flooded with documents on a day-to-day basis. From employees creating new documents through to documents coming into the business from all different sources: email, paper, web portal, mobile uploads, website, etc. and for multiple purposes like invoices, communication, job applications, proposals, RFPs, customer requests, purchase orders, claims, evidence… the list goes on.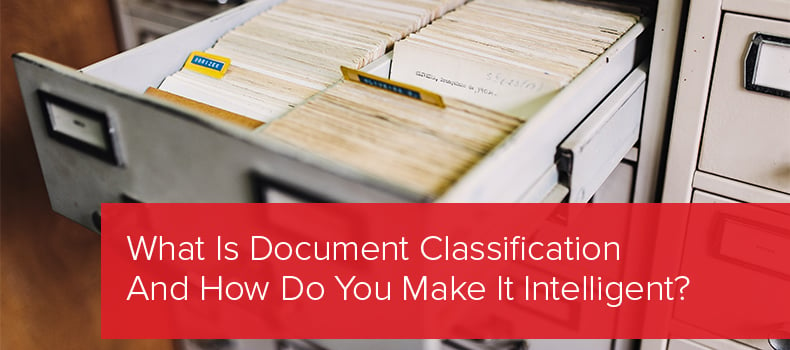 A recent Microsoft study found that 40.6 billion more emails passed via Microsoft Exchange Online in February 2021 compared to February 2020.
Further still, when looking at the impact of hybrid working and remote working, Microsoft found that "there was a 66 percent increase in the number of people working on documents" when "comparing collaboration trends in Microsoft 365 between February 2020 and February 2021" (The Next Great Disruption Is Hybrid Work—Are We Ready?, Microsoft)
What this tells us is that the reliance on documents and communication is still very high in many businesses and is actually increasing with the shift towards hybrid and remote working. The need to organise this data and information is crucial, and that's where document classification comes in.
In summary, classification of documents is what the document is and what we should do with it next. Almost all those decisions are currently made by employees.
Documents exist because the processes we've all created require human intervention or processing.
Manually capturing data and classifying documents is a hugely time consuming task. In fact, it's thought that "professionals spend 50% of their time searching for information and take an average of 18 minutes to locate each document". (7 Stats That Will Make You Rethink Your Document Management Strategy, Business.com)
Further still, "3% of paper documents get misfiled, while 7% get lost completely." (ILM Corp)
Document classification often isn't considered as part of process improvement, partly because there have been few options available other than the way it was always done. OCR and similar technologies relied heavily on structured or semi structured content to get a decent classification or data extraction.
What leaders now need to ask themselves is whether classifying documents, storing them/sending them to others or adding them to systems or processes is an effective use of employee time.
What more important things could employees be doing with that time?
There has been a considerable focus on using augmented technologies to help with the mammoth task of classifying every document intelligently and extracting data to feed systems and processes that businesses need to exist.
What this does in turn is take some of the pain away from document management tasks and to actually optimise and make these classification processes and decisions more efficient and compliant. With so much regulation on how data should be handled, it's key for organisations to store information in a way that makes it accessible, auditable and secure.
An intelligent document classification/processing platform can help organisations to reduce the number of misfiled documents, the time spent searching for documents, delayed processes and the hassle of storing documents in a compliant way.
How do you get to an intelligent document classification process?
The short answer: use a tool or platform built for the job.
Automation often starts with understanding your current processes, including where documents are coming into the business. While it's good to review all areas and departments in the business, some of the departments that often have a high number of documents coming into the business include: Finance, HR, the Mailroom and Customer Services.
By using a capture and classification platform, like Xenith's Ai Capture, when a document comes into the business, such as an invoice, it's 'captured' - that is to say, scanned and read by the platform to work out what type of document it is.
The classification part of the process, sometimes known as categorisation, is a way of classifying, classing or categorising documents based on the content within them.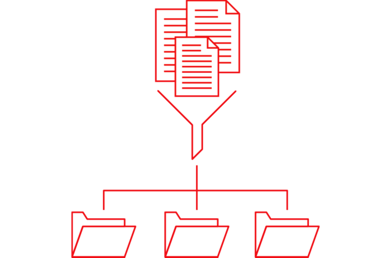 It works by training the Ai with existing document rules that the platform uses to identify what sort of document it is and where it belongs - for example, if an invoice comes in, the platform scans the invoice document looking for specific information, such as an invoice number. If it successfully identifies the document, it's then named and saved in the right location.
More advanced versions of document capture and classification, such as Ai Capture, also have unique capabilities, like the ability to process natural language, and like human employees, are also able to analyse the sentiment of what is written on a document. So, Ai Capture can take action in a similar way to how employees would.
This is key in reducing the number of exceptions and pushing the most important documents to the front of the process.
This also allows the system to better understand and classify the document, increasing the accuracy and therefore making the process more efficient.
The key benefit of automated document capture and classification is increased process efficiency, reduced errors and reduced employee time.
In the first part of the process, employee time can be saved as you don't need someone to check and read the document and then save it to the correct folder, send it on or load it into a process. That's all done automatically with only exceptions needing the human touch. Because the system is intelligent like us, it gets better every time it gets help from the employee so less exceptions occur.
And then when it comes to actually accessing and using the document, time is saved by the nature of the document or information being in the correct folder, because when the information is stored, it is always done correctly with the correct index information extracted directly from the document. No more miss filed or wrongly named documents.
Essentially, a lot of time is saved from just making documents much easier to find. Rather than the pain of tracking down documents and information (as much as 18 minutes per document!). How much time could your business save everyday reducing this down to 2 minutes per document?
For one of the UK's largest and most well-known law firms, Xenith implemented a new scanning and routing solution to digitise incoming mail and send it to the correct recipient automatically - this improved productivity in the automated post-room, resulting in 384.6 working days saved each year!
These time savings then have a much larger impact on the efficiency of any document driven process, and also provide a better process for remote and hybrid workers as documents can be stored somewhere that they can access it.
Find out how to reduce the number of misfiled documents, the time spent searching for documents and the hassle of storing documents with Xenith's Ai Capture - intelligent and automated document capture and classification.

Learn more here

.