As cybercrime continues to threaten us all, both as consumers and as organisations, PC manufacturers and component suppliers around the world are collaborating in an effort to make devices more secure.
The PC ecosystem has not only embraced the collaboration but also innovated to go above and beyond. The year-over-year improvements are unique to the ecosystem and help IT enterprise customers combat the increasing number of sophisticated cyberattacks. (Partners Take On a Growing Threat to IT Security, Intel IT Peer Network)
In particular, there is a focus on making hardware and firmware more secure and taking security measures back to a hardware level, as opposed to just a software level over the top. The issue with firmware is derived from producers designing the firmware without security in mind, or at least, not at the forefront of the design.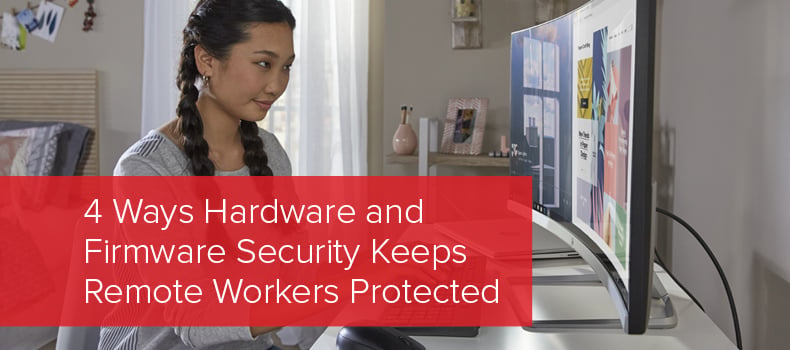 It's for these reasons that device manufacturers and suppliers, such as HP, are focussing heavily on hardware and firmware based security, making their devices one of the most secure options in the world, especially for businesses.
Whereas traditionally IT teams can control the security of devices based on a local office network, the rise in remote working (driven even further by the current world COVID-19 pandemic) has led to holes in security where employees are connecting their company devices to unsecured networks and more vulnerable home networks.
This has in turn led to an increase in cyber attacks, through cyber criminals taking advantage of these vulnerabilities through phishing emails, ransomware and other malware that can affect the device and all the sensitive information contained on it.
That's where hardware and firmware security comes in. With firmware security, IT can provide users with a secure device that doesn't have to rely on traditionally secure networks and controls in the same way.
With HP Xenith DaaS, organisations can take advantage of these 4 hardware and firmware security solutions to keep both office-based and remote workers safe and secure:
HP Sure Click
Sure Click is a hardware-enforced secure browser solution that isolates web content in a CPU isolated virtual machine. What this means is that any malware cannot affect other open browser tabs, applications or crucially, the operating system - it's essentially a secure lockbox for individual web content a user opens.
"HP Sure Click is closing the door on most of the common attack vectors in widespread use today. This will naturally force the attacker to look elsewhere. Some of the areas to look for vulnerabilities as a logical next step for attackers include firmware and hardware." Ian Pratt, Global Head of Commercial Security, HP Inc. (Partners Take On a Growing Threat to IT Security, Intel IT Peer Network)
HP Sure Start
Sure Start continuously inspects the BIOS and automatically heals the BIOS if it's been damaged by malware, rootkits or corruption. It is the world's ONLY self-healing BIOS.
"HP Sure Start has evolved to be the most comprehensive firmware security and resiliency solution in the industry, which has become a necessity in light of the evolving threat landscape in which attackers increasingly aim lower in the stack" Ian Pratt, Global Head of Commercial Security, HP Inc. (Partners Take On a Growing Threat to IT Security, Intel IT Peer Network)
HP Sure Run
Sure Run is all about keeping critical processes running with the help of hardware enforced protection by monitoring all key processes and alerting users and IT of any changes and restarting processes automatically if they are stopped.
HP Sure Recover
Sure Recover is built into the device hardware and firmware and enables end-users to restore their machines quickly and securely to the latest image using a network connection. IT can even schedule re-imaging for an entire fleet of devices.
These security solutions are just 4 examples of a how HP ensure their devices are secure for those working remotely and in the office - learn more about the security features of our DaaS offering here.