Many departments rely on the ability to process and scan paper documents – in fact, many organisations transport boxes of paper or re-route mail to the homes of their employees when offices cannot be accessed in emergency situations, like the current Covid-19 pandemic.
Because the need to scan paper back into office systems is so business-critical, we have even observed a few customers who, at the start of the lock-down, had multifunctional printers moved from their business premises into the living-rooms, spare-rooms and studies of their key administrative staff. Significant resources were needed to move the devices, install them and re-integrate them with back-office systems. This practice may also void the contract you have with your supplier.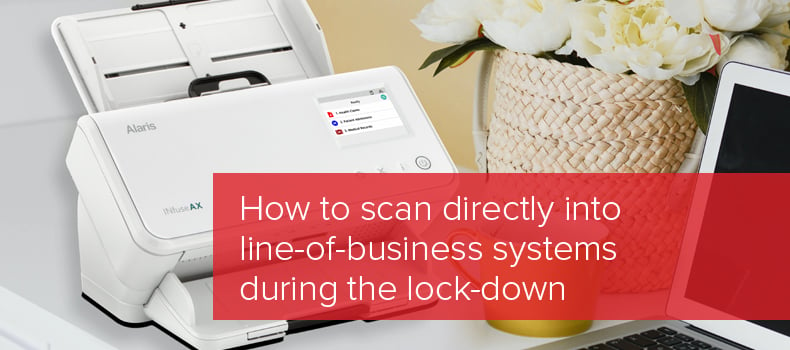 Larger office devices may also need to be re-configured from time to time, which then requires more IT resource, or in the worst case a house visit from someone in IT.
Last but not least there is also a physical danger having these large devices in environments where children or pets may be present.
Some bypassed this entirely by continuing to send workers into the office to scan documents. After all, this is a task that can not be done from home, and if scanning is business critical, then some have presumed their staff to be key workers.
Others requested staff members to use their personal or business mobiles to take pictures of their documents in order to digitalise them at home. As they say, the show must go on!
However, this is not something we recommend that you do. Now that it looks like some measures of social distancing will be in place for the remainder of the year, you can consider using a fully managed service created specifically so that your staff can scan at home.
So how does this work?
A provider (like us) would send a pre-configured scanner to your employees. All your end-users have to do is plug in the scanner and scan a pre-printed barcode to get started.
All workflows - such as sending the document to the right person, or saving the information in the correct repository, network drive or back-end system are pre-configured by a service provider, like us. If your processes change, we can alter workflows remotely so your end-user remains hassle-free.
Partner software or line of business applications such as invoice processing, medical records management, or customer account management integrate via APIs to create a full solution.
Scanners should offer enterprise-level security, including a separate data path and control path to isolate confidential content for secure transmission. Management software should be hosted in the cloud and should allow you or your provider to manage the fleet, set-up the workflow, configure the devices and allocate licenses.
What if I have more than just a few boxes of paper?
If Mary in Finance has a small kitchen, which has already been filled to the brim with boxes of documents, or if the information on those documents is highly confidential, you may wish to consider a fully outsourced bulk scanning solution. This involves sending documents to a provider's secure facility, where they are scanned and digitalised.