In Xerox's

2020 Future of Work Survey

, they found that "58% [of companies] plan to change their work from home policy within the next year, highlighting the need for companies to support a hybrid workforce."
What's more, is that many of these companies are expediting their plans to invest in technology and digital transformation as a result of the COVID-19 pandemic, with the idea of hybrid working becoming the norm for many.
What's interesting about hybrid working is that businesses could be running with some employees working from the office full-time, some employees working from home full-time and others choosing a hybrid option to work between home and the office as they see fit.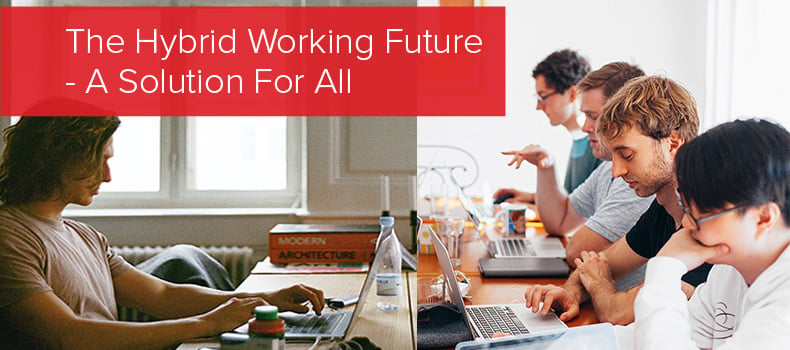 This approach comes with obvious work-life balance benefits such as fitting in school runs or reducing your commute. However, it also comes with challenges, especially when a company doesn't have the proper infrastructure in place.
Some of these challenges include:
Collaboration
Information security
Access to information and documentation
Access to productivity tools and hardware
Lack of IT support for remote workers
Many of these challenges are specific to remote working, but the solutions that can be put in place would benefit home and office workers alike. The challenges and how you meet them also depend on the culture led by the company and the tools and systems provided to make hybrid working a success for all. In this case, we're going to discuss some of these tools and systems.
It's worth noting that what you've put in place (possibly even in a rush) for the sudden shift to work from home during the pandemic does not have to shape how you move forward.
Starting with technology, there is a lot to think about here - do you provide desktop computers, laptops, monitors, docking stations? What about secure access to data in the cloud? How do people working from home access printers or scanners? Can hybrid workers access office-based systems?
Employees will need some sort of device that can be used from any location and still allows them to access all the systems they would be able to in the office - a laptop, most likely, as they can put it in their bag and go where they need to be! A good way to source laptops for hybrid working is through Device-as-a-Service (DaaS).
DaaS is a lifecycle programme for end-user laptops and devices that includes solution design, supply, analytics, proactive service & advanced security all at a cost per month. It's a great way to provide secure devices to everyone that needs one, and allows scalability (up and down).
As well as laptops, you may also want to consider monitors for 'hot-desking' that allow hybrid workers to plug into an available monitor and workspace and carry on as if they're always in the office.
You also need to consider software - everyone in the business should be able to access the same software and options, from content management and ERP systems to CRM and HR. It's important to implement software that allows collaboration between people and keeps security at the forefront to decrease any risk of data breaches (although, device security can also help mitigate this risk).
Good content management systems (such as Xerox's DocuShare Flex for example) also have some degree of automation and workflow built into them, which can be configured for your company. This saves every department lots of time, crucial during these busy periods when companies may have to work with reduced workforces.
Other things to consider for hybrid workers is how they access and use systems - they should be able to send something to print from home and print it when they get to the office all with a seamless transition and the same user interface and experience. This can be done with software and apps like Xerox's Workplace Cloud.
In fact, considering the idea of printers, scanners and copiers, look for a solution that gives home, hybrid and office workers the same experience. Xerox's ConnectKey devices cover everything from home working options through to large office MFPs but still have the same application options and the same user interface.
Taking the approach above can also have great business continuity benefits - if the office is ever shut down, whether it's due to a natural disaster, an issue at the office or illness as we've seen with the COVID-19 pandemic, a hybrid working approach means people can continue from normal without going to the office.
To find out more about implementing a strong and appropriate infrastructure for hybrid working, get in touch. Or learn more about some of the services and solutions that we offer: