"Given the nature of an entire country working from home, keeping those IT systems working and functional is far greater than it was before - we have to make applications and collaboration tools work and that's where IT teams in particular have a lot of pressure placed on them"
Stu Hirst, Cloud Security Engineer at Just Eat.
There's no doubt about it - IT Support Teams have emerged as heroes in this pandemic, adapting quickly to keep the cogs and gears of our country's infrastructure moving. But if you are in IT yourself, you will be able to relate to the words of Mr Hurst, quoted above, from a recent BBC article.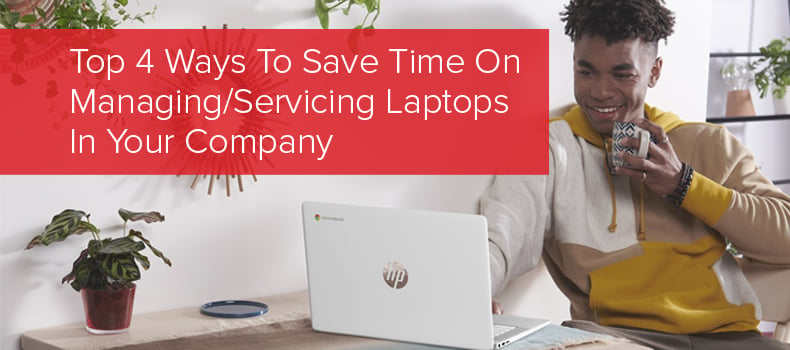 The pressure on IT and Support teams has always been enormous. Even pre-pandemic, there never seem to be enough hours in the day to get everything done. So we have consulted the experts and found the top four ways in which IT can save up to 46% on the time they spend servicing and maintaining end-user computing devices - regardless of whether your end-users are working remotely, or back in the office. What's more, these techniques will not only help save time for IT, but also for the end-user too!
1. Use Predictive Analytics
When device issues do arise, whether it be due to user error, hardware error or just over-utilisation, they need to be caught early to keep disruption to a minimum - in fact, ideally, they need to be known about before it happens.
We're not quite talking about predicting the future, but with insightful and predictive analytics, what is possible is to analyse the usage and health of a device to monitor when something might go wrong. For example, if the CPU is regularly being over utilised, it's possible to work out when that might become an issue, or if the battery health isn't looking too good, it's better to catch it early and replace the battery before it dies completely and disrupts the user.
By being on top of these issues, both the user and IT team can save time by reducing the number of device-based disruptions they have - for example, if an employee is travelling for business or working remotely, the device breaking or not functioning properly can cause a lot of disruption and waste a lot of time!
We would be delighted to talk you through some of the predictive analytics you can use in your own company, and how to access them - just book a 15 minute consultation.
2. Start Off With The Right Device Spec For Each User
One of the best ways to save time is to provide the right equipment for the job.
By analysing how people use their business devices and what they run, you can start to monitor the utilisation of a device and work out if it throttles processes and essentially slows workers down. If every time they open an application, it takes 5 minutes to load, that's time wasted for them, and when they log a ticket it's wasted time for you too.
It's a simple fix - you just need to give them a device capable of running the applications they need to do their job. With the device running properly and being utilised well, employees can work at their own pace as opposed to what the device allows, and in turn can increase productivity and save time!
We would be delighted to talk you through some techniques on how to figure out the best configuration for each user - just book a 15 minute consultation.
3. Let Ai & Hardware-enforced Security Protect Users In Real-time:
Although they (hopefully) don't happen too often, a security breach or virus can be very time consuming for the business as IT intervention may be needed and the end-user may be disrupted while their device and system is being sorted out.
You can now protect against both Malware and Ransomware attacks effectively, without the need for IT intervention, by harnessing the power of deep-learning artificial intelligence to provide real-time threat detection, self-healing BIOS (basic input/output system) and hardware-enforced secure browsing that isolates web content in a virtual machine.
This means IT are much less likely to have to intervene and end-users can quickly continue with their work in the event of a security breach or issue.
We would be delighted to talk you through implementation of some of these security measures - just book a 15 minute consultation.
4. Packaged Maintenance And Support
Free up time from the IT team by implementing 'Device as a Service' - which is a complete life-cycle management program for end-user devices that includes ALL of the above, but also ongoing optimisation and support for all the devices in your fleet.
According to research from IDC, your company can save 46% of the time spent on servicing end-user computing devices, while increasing end-user productivity by 61%, with services like DaaS.
When you consider the fact that you get all of the above for a very competitive and predictable cost-per month (including the device itself), it suddenly becomes a no-brainer.