Device as a Service (DaaS) is a lifecycle management programme for end-user business devices. It works in the same way as most SaaS solutions and subscription-based services in that your company pay a monthly per-user fee and in return gets a comprehensive computing solution that includes devices, accessories, analytics, support, and best-in-class security.
It's a cost effective solution that can help reduce capital expenditure while increasing the security of your IT infrastructure and also offers productivity boosts and time savings.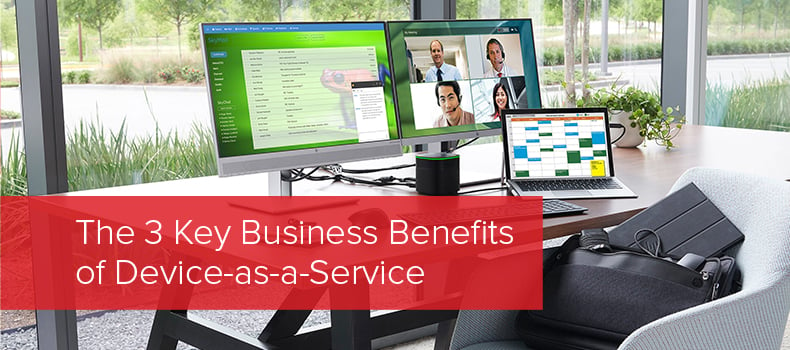 There are many benefits to Device-as-a-Service, from the flexibility of providing devices to employees working in the office and from home (or other remote locations) through to the ease of replacing, fixing and generally maintaining devices. In this blog, we're focusing on three key business benefits that can help you make a business case for DaaS in your business.
1) Cost Savings - Reducing Capital Expenditure
Computing hardware is expensive. It's even more expensive when it needs replacing and upgrading because the device you procured isn't powerful enough for some employee day-to-day operations.
With Device-as-a-Service (DaaS), there is no upfront cost. Everything, from the device you provide to an employee to the maintenance, repairs and ongoing service is covered by a monthly per-user cost - so you get the technology without having to dig into your capital, spreading the cost over a longer period of time, aligning it with operational expenditure.
Better still is that you only pay for what you need as the costs can be calculated on a per-user basis, and with the flexibility of a DaaS contract, you can scale the number of devices up AND down to suit your business needs, reducing the cost with it.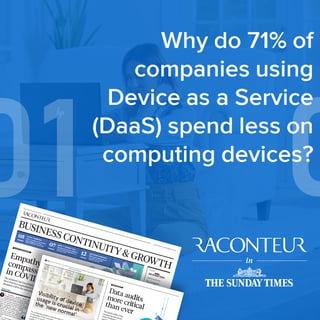 The cost of the devices and therefore the monthly cost can also be further reduced by providing devices suitable for each member of the team - after analysing how employees use their equipment, it's possible to see what device would do the job meaning you don't overpay for a device that someone doesn't really need.
But it's not all about the short-term and upfront costs - devices have costs associated with them over time, whether that be due to accidental damage, loss (for remote workers), fair wear and tear, security breaches etc. These things cost the business in repairs and maintenance. With DaaS, this maintenance and support is provided as part of the contract, again, reducing the lifetime cost of the devices procured.
2) Security - Prevent, Secure, Manage
Whereas traditionally IT teams can control the security of devices based on a local office network, the rise in remote working (driven even further by the current world COVID-19 pandemic) has led to holes in security where employees are connecting their company devices to unsecured networks and more vulnerable home networks.
Cybercrime is actually on the rise as a result of this as bad actors make the most of these vulnerabilities with phishing emails and ransomware attacks.
Device-as-a-Service makes use of best-in-class security by providing the most secure laptops on the market providing: malware protection, real-time policy violation and firewall, and antivirus disruption alerts, plus find, lock, and erase functionality.
They are the only laptops capable of protecting against both Malware and Ransomware attacks effectively, without the need for IT intervention.
These security features go beyond your average firewall and use firmware and hardware security to prevent security breaches and in the event that a device is breached, they use security protocols that locks the malware down to a virtual machine meaning it can't affect other devices or the wider business network.
Essentially, the whole solution is built with security in mind and the knowledge that IT can't always be there to fix the issue, especially with the continuing trend of remote working.
For a full list of device and DaaS security features, click here.
3) Save Time - Remove the hard work
One of the great things about DaaS is that the benefits apply to multiple people within the business and this is true of time savings as well.
For the IT team, they can focus on more important business projects and leave the support and maintenance up to the DaaS supplier with the packaged support options. No need for an IT helpdesk on top of the day-to-day operations!
The analytics provided as part of the solution can also help to monitor device usage and health, meaning you can actually catch issues before they become a problem - for example, if a device's battery is deteriorating and is at risk of failure, a new battery can be provided before the old one fails. This reduces the down-time of the device so employees can keep working as normal.
For the end-user, they can also benefit from longer up-time and faster devices as they can be provided with devices that suit their day-to-day operations. In turn, this can reduce the amount of time that someone is waiting for an application to load or a process to run, giving time back to the employee.
Device-as-a-Service is a great way to provide everyone with the device they need on a flexible and scalable contract that takes into account security, cost and saving time, all for a monthly per-user cost.