The COVID-19 pandemic is impacting businesses all around the world. It is an event that we've never seen before and is bringing to light a huge number of business continuity issues, especially considering it doesn't feel like there's an end in sight.
However, there will be an end, and one thing businesses need to consider is how they can plan not only for the current pandemic but the aftermath and what happens next.
Aside from the all-important goal of keeping staff and customers safe, we know there's a big focus on making staff productive when working from home. However, part of this exercise is also realising that reducing costs and planning for the conclusion of the pandemic is important too.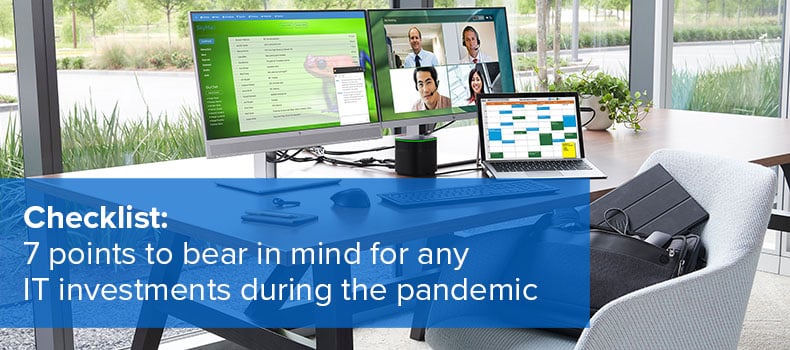 For all we know, the immediate outcome of the pandemic might be increased home and remote working as many people realise they can successfully do their job from home or it could be that everyone rushes back to the office having spent months working alone at home! We just don't know!
It's for these reasons that any IT investments you make in the coming weeks and months, should be:
1) Scalable so you can flex up and down as requirements change.
With more people having to work from home during the pandemic, there's a good chance you've had to increase the IT support offered and even procure additional hardware.

If you're in the process of doing this, make sure you choose something that's scalable and flexible so you provide hardware at the time of need, and then scale back down when appropriate to save cost and device management time.

2) Easy to deploy for IT and quick to adopt for users.
As great as communication tools are, it's hard enough to deploy new technology when everyone's working in one location, let alone everyone in separate locations. When procuring ANY new hardware or software, consider how easy it will be to deploy to everyone and how quickly users can adopt it - look for hardware/software that is easy to use and has a highly-rated user interface. Ideally, you want minimum disruption to all involved.
3) Managed services, as IT have enough on their plate.
Supporting all your users and processes through this period of unrest is difficult enough - don't add a load more to your plate. Consider managed services such as Device as a Service (DaaS) and remote working packages that take care of the hardware and in some cases software side of things. Ease the load and make sure everyone has what they need.

4) Super-secure as bad actors will no doubt try to leverage the pandemic.
Unfortunately, we're already hearing about consumer 'coronavirus' scams and it could spread into the business world - from phishing to malware to ransomware attacks, cybercriminals are likely to take advantage of the potential security holes in home networks.
You can provide hardware and software which automatically defends itself. Go beyond anti-virus protection with real-time threat isolation technology that contains zero-day e-mail, browser, and file attacks and helps prevent impact to the network. Try to protect against human error too - after all, during social distancing, the user can not bring their device to the helpdesk for it to be wiped or serviced when infected.

5) Administrable by heads of department in case IT is unavailable.
For some businesses, IT support isn't going to be readily available during this tricky time - whether that be due to reduced resources with home working measures or because they're busier than usual with day-to-day requests, or because they are unwell. In light of this, you may need to take measures that allow for department heads to be able to control things like access rights or workflow settings in Content Management Platforms.
This can take the pressure off IT and ensure everyone can keep working as close to normally as they can be.

6) Financially sound decisions that require no upfront or immediate investment.
There is no doubt that this time might be financially challenging for some organisations and the last thing you want to do is make a big IT investment at a time when you may have to tighten your belt.
However, there is a solution - look into options that don't require upfront cost or immediate investment, for example Device as a Service (DaaS) or SaaS-based models allow you to pay for what you need on a monthly basis, spreading the cost over time!

7) Useful once the pandemic is over.
Once the worst of the pandemic is over and organisations start to move back to a 'business as usual' state, they have to consider what's been procured specifically for the unsettled period of increased remote working. Think ahead when procuring things during the pandemic and consider how the new IT investments can benefit the company in the longer term as people return to the office.

This includes scaling down the infrastructure as needed but also investing in services that will allow you to scale up at any time in the future for whatever reason.
Keeping in mind these 7 points, Xenith have developed a Remote Workplace Package that includes Device as a Service bundles and a content management platform to allow for productive and efficient working during these uncertain times.
We're also currently offering an economical 3 month deferred payment plan on all Managed HP Laptops, bundles and peripherals.