Many organisations, particularly professional services in the legal, financial, accountancy & insurance industries depend on communicating with their customers and use physical mail in order to do so. This is often the case when customers have to send in bills, invoices, supporting documents, correspondence, paper forms or when they have to sign a contract.
Post or mail distribution is a difficult time-consuming task in normal circumstances. But with so many organisations working remotely it has become even harder.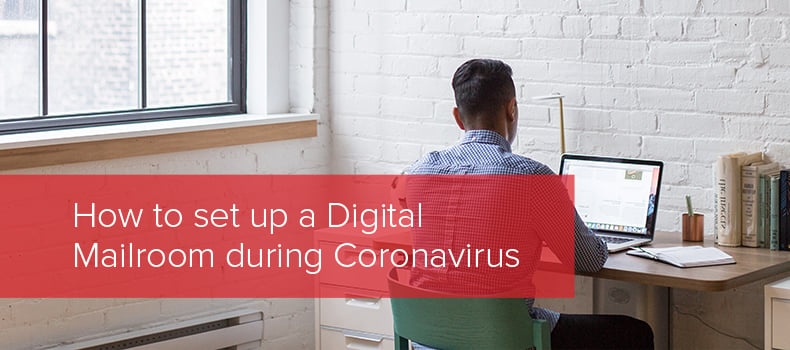 If you depend on communicating with your customers through physical mail, but don't want to endanger staff by sending them into the office to pick up/scan your post during an emergency, you can switch to a digital mailroom service. You have a few options:
On-site digital mailroom:

An onsite digital mailroom is one where incoming mail is scanned and sorted on your premises by a member of your staff, or by a digital mailroom professional. A digital version of the mail is then sent to the appropriate department or member of staff, either via a content management platform or email.

Automation / advanced scanning software is often used in order to detect the contents of the mail and route it directly into line of business applications. Do bear in mind, you require a member of staff to be physically present on your premises in order to receive and scan the mail. This option also requires you to have the appropriate hardware and software on your premises - not ideal when you do not want to access the office during lock-down. Get in touch to learn more about this option.



Outsourced digital mailroom:

This is effectively a fully outsourced solution where a provider like Xenith would re-direct your office mail to a remote location and scan it to a secure cloud-based repository, where your staff can easily re-direct it to by choosing the appropriate department or individual from a drop-down menu. This a quick and easy way of implementing a digital mailroom, which you can have up in running in approximately 10 days (this is because Royal Mail takes between 7 and 10 days to re-direct your mail to us) Obviously, you do not need to access the office to do this and setup can be done fully remotely. Get in touch to learn more about this option.



Outsourced Mailroom with Sorting and Automation:

This is effectively a more advanced version of the above-mentioned method where a provider receives all your mail and scans it to a secure repository. The only difference is that your mail can be sorted for you, and can be scanned directly into your line of business or back-office systems. Automated workflows can then be set up to use the information in your received mail in order to complete other business processes. This can also be done off-site, subject to requirements, but can take longer to set up than ten days. Get in touch to learn more about this option.

What to look for in a digital mailroom:
Is it highly secure?
Whoever is processing your mail for you needs rigorous security standards including ISO9001 and ISO27001 in order to secure the sensitive and confidential information. Staff should also be security cleared to BPSS level.


Is it operational amidst disasters?
Look for strong disaster recovery plans - along with a 24-hour command centre, a disaster response team & enhanced alternative sources for supply chain and human resources. It helps if you select a facility where mailroom employees have been designated key workers by the central government and have Personal Protective Equipment measures in place.


How are Cherished and Valuable items processed?
You may often receive valuable items in the mail such as original personal identity documents, cheques, financial instruments and more. Ensure your mailroom provider can securely store and transfer these physical items to you at a later date after scanning them into the system.


Is the provider future-proof?
In an emergency what you probably need is a basic service that's quick and easy to implement. However, ensure you have a provider that can build on this in the future to completely digitalise and automate the way information is processed and used in your organisation - but it all starts with the digitisation of incoming mail.


Ensure the solution can be used or administered by members of staff.
If not fully automated with sorting capabilities, any member of your staff - including those who were previously working in your onsite mailroom - should be able to sort mail and route it to the correct department or staff member - all from the comfort of their home. The system should be accessible from anywhere and intuitive to use.


Are Flexible Contract Periods available?
Even though a fully outsourced digital mailroom solution can make your company more productive and efficient, as well as more agile and responsive to customers and suppliers, you may wish to revert back to a different way of doing things after the pandemic is over. To help you with business continuity during this difficult time, ensure you have the flexibility required to exit the contract after a reasonable period of time, should you need to.


Do the numbers stack up?
An outsourced digital mailroom should reduce your overall costs, not increase them. Look for suppliers who provide a bench-marked rate card to offer you the most cost-efficient solution and also check that you can pay-as-you-use the service.